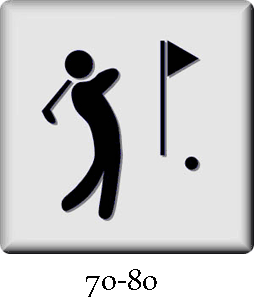 As a golfer who regularly scores between 70-80:
You have an effective swing and are competent with all the shots tee-to-green.
The next step is to identify a fundamental common to all your swings that compromises them resulting in added strokes.
The learning approach you'll need for improvement:
Advanced golf instruction from our school takes us through your entire game.
You and your professional assess putting, chipping, approach shots, and full swing with woods and irons.
Together we will identify a factor that is common to all your shots (e.g. grip, alignment, etc.) or a specific shot that is costing you strokes (e.g. long irons, fairway woods, etc.).
Why you should choose Heartland:
You will enjoy these three days devoted exclusively to your game. This total focus will prove revealing and enlightening. New clarity is achieved. Hands-on experience confirms that the golf lessons you are learning produce the shot improvement leading to score improvement.
With classes limited to 4 players, each player receives personalized golf instruction. This allows us to work with you one-on-one and results in gratifying improvement confirming Heartland was the right choice for you.  We are easy to reach and just minutes from downtown St. Louis.
Enroll Today
Meet your instructor
Daily Agenda
Curriculum Objectives