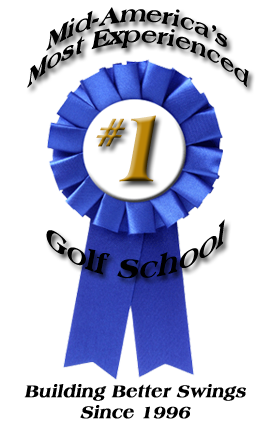 3-day, tee-to-green instruction makes your swing simpler and more repeatable. You'll hit better shots, more of them, with improved consistency.
Heartland Golf Schools conducts its 3-day tee-to-green golf improvement programs at Annbriar Golf Course in Waterloo, Illinois, just 30 minutes south of St. Louis, Missouri.
Your golf school curriculum is comprehensive from tee to green:
Putting – improve your putting stroke and learn distance control and reading greens
Chipping – improve your chipping and learn distance control and club selection
Full Swing – develop a very effective swing that optimizes both distance and accuracy
Approach shots
Attending our three day golf school, you give yourself the time to make improvement not achievable from a golf lesson.  You'll receive personalized instruction on putting, chipping, your irons, and your driving.  Because we personalized the instruction, both beginning golfers and low handicap players find they make remarkable improvement during their time at Heartland.  
Here is how Heartland Golf Schools works for:
Beginner, High, Mid, and Low handicap players.
Click to read about:
our golf instruction objectives and each day's agenda
Heartland's commitment to you:
– your golf swing will be simpler and clearer than it has ever been
– you will hit better shots than you ever have – and more consistently
Playing better begins here, begins now!
Golf Improvement to fit your schedule:
Our classes comprise a 3-day golf improvement experience.
They are scheduled each Monday through Wednesday and Friday through Sunday.
We begin at 9:00 a.m., concluding each day at 3:00 p.m.
Tuition:
Tuition for the three-day school is $675.00.
Includes your daily lunch with us at Annbriar's Smokehouse Restaurant. The remarkable golf instruction you receive makes this an unequalled value.
Two ways to enroll:
We are always pleased to speak with golfers.
You can call us at: (314) 453-0705.
Gift Cards
Give the gift of golf. Purchase a Heartland Golf Schools Gift Card for the golfer in your life today.
Frequently Asked Questions
Playing better begins here, begins now!
Phone: (314) 453 0705
Location:
Annbriar Golf Course
1524 Birdie Lane
Waterloo, IL 62298 (Map)
Mailing Address:
P.O. Box 410623
St. Louis, MO 63141